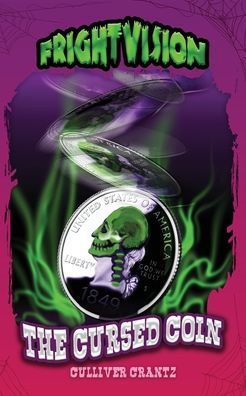 Thank you to author Culliver Crantz for the review copy of THE CURSED COIN, which I received as part of the FrightVision Brand Advocates program.
Twelve-year-old scaredy cat RJ and his daredevil little sister Shelly live down the street from a haunted house! When chasing after Shelly, RJ finds cursed coin from the laboratory of an evil scientist, that threatens to turn RJ into an evil mutant!
Now RJ must destroy the coin and dodge a mysterious monster called The Impaler, before it kills both him and Shelley.
THE CURSED COIN is the first book in the Fright Vision series. The author's recommendation is that you read this book first, then you can read the series in any order.
This book is a good spooky standalone story, that reads like the superhero/monster origin story to the FrightVision series. But stay tuned for next week when I review sequel THE ATTACK OF THE YELLOW SMART SACK for my test of that theory.
Loved
• Some creative fourth-wall breaking (complete with references to the FrightVision series).
• Is-that-or-isn't-it faint Goosebumps references and nods to Stranger Things will keep kids from many decades turning the pages.
• RJ is relatable; and a plot twist teaches kids a valuable lesson about not judging people who look different. He grows into his courage throughout the book, sticking his neck out to save the life of a classmate who hasn't earned his loyalty.
Not remotely germane to the plot, but you can choose a pink or green cover, which is fun.
Caveat
While not incorrectly billed as a Goosebumps read-alike, this is darker. If we're going with 90s nostalgia, it's a little darker than Are You Afraid of the Dark?
Check out FrightVision for yourself!
Use discount code KCFV10 for 10% off your purchase on the FrightVision website or Etsy store.